In just a few short years, plant-based food alternatives have grown from speciality items to hot consumer packaged goods (CPG) that are must-haves at large European supermarket chains, coffee shops and independent retailers alike. If you're still debating whether to expand your store's vegan food product assortment, well, you should, and, here's why:
1. Opportunity of growing customer demand for vegan products
What was once on the fringes, now is mainstream and shows no signs of stopping. The global vegan food product market size valued at €28 billion, is expected to reach €153 billion by 2030, a 7.7% of the global protein market, according to Bloomberg Intelligence. Western Europe, with Germany, Netherlands, and France, at its front, is leading the way into the new normal with an average of 43% of people reducing consumption of animal-based foods or cutting these products out of their diet completely, according to Proveg International report done in 2021.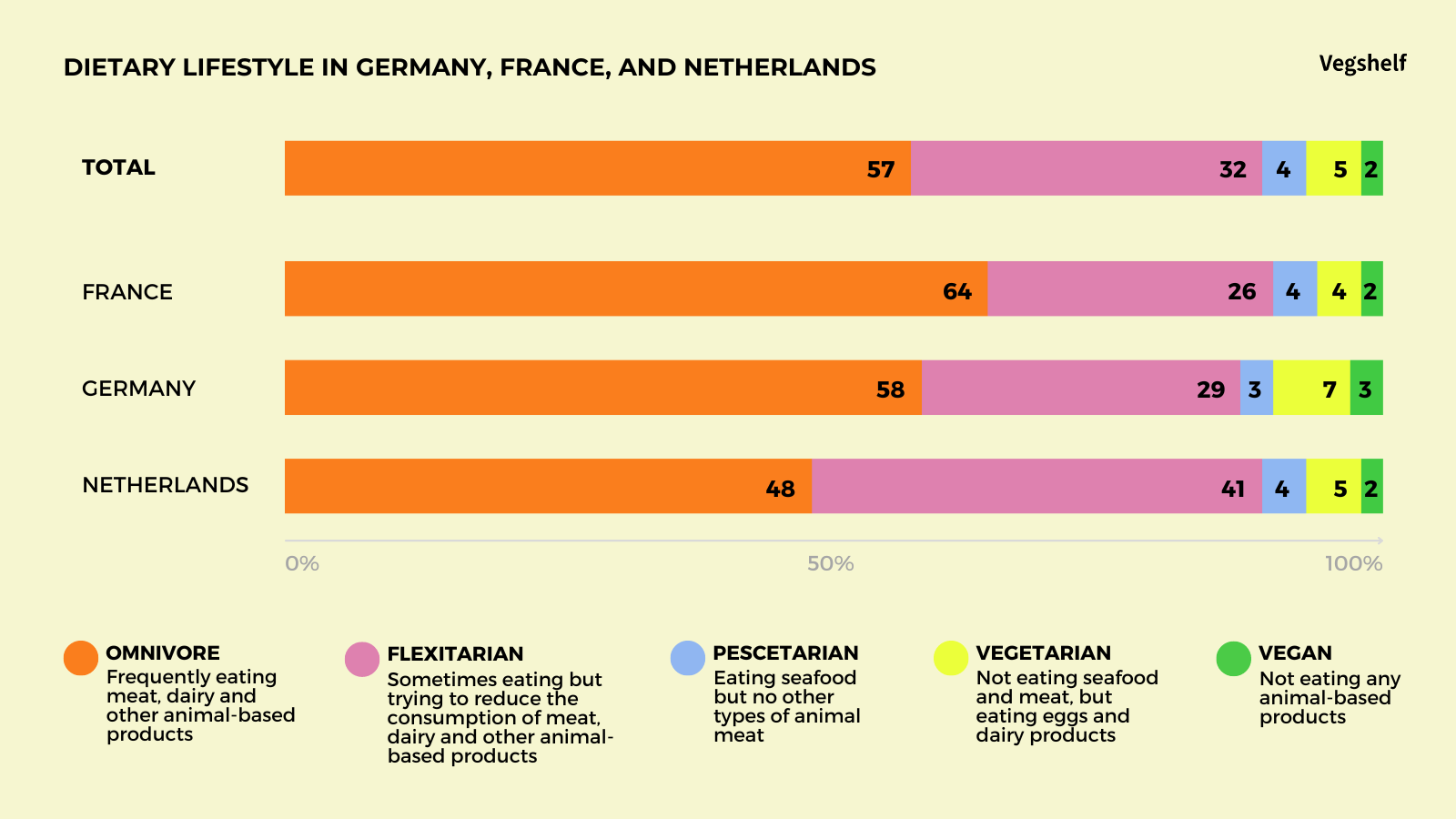 Source: 'What consumers want: A survey on European consumer attitudes towards plant-based foods, with a focus on flexitarians' by ProVeg International (2021)
How plant-based foods got so popular, you may ask? It's flexitarians driving the change - people who mix both animal- and plant-based diets, yet are intentionally trying to reduce their animal-based food consumption because of their own health, animal well-being and environment, among other reasons. The very fact that the plant-based market is driven by your average customer who likes and eats meat occasionally is a huge change that you as a shop owner or retail category manager do not want to ignore in order to stay competitive.
2. Tap into a wider customer base by offering vegan products
Growing demand for vegan food and beverage products presents a great opportunity for retailers to appeal to a wider customer base, build customer loyalty and ensure repeat business by offering a wide and continuously updated assortment of high-quality and delicious vegan products.
One of the top reasons why retailers can't keep their customers in the store is because of not meeting their expectations and lacking products their shoppers are looking for. Reversing that by analyzing the micro-trends of the food and beverage industry, and knowing the most innovative and emerging food and drink brands is key.
In the last couple of years, the vegan food category has seen enormous product innovation with new vegan food suppliers across all product categories entering and shaking up the European retail and foodservice. It's a full spectrum of players - leading the way are challenger brands, innovative startups, and local, artisan vegan food producers, followed by well-established big food corporations.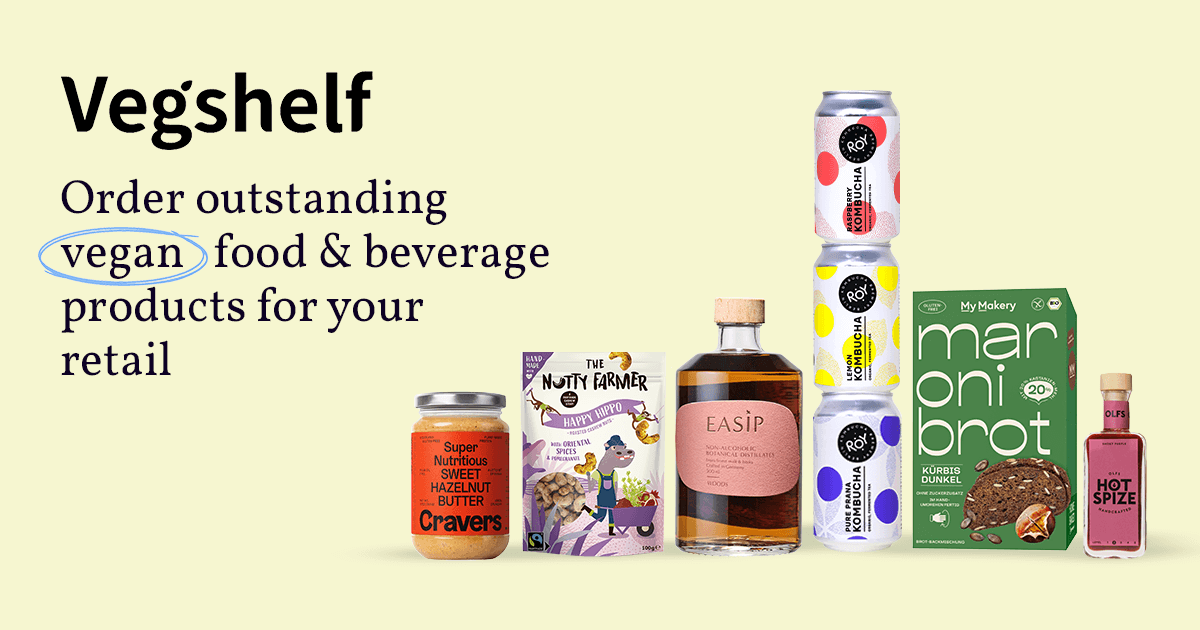 Order outstanding wholesale vegan food and beverage products for your store on Vegshelf
Finding such vegan food wholesale suppliers and gathering all the information about their products, prices, and their trade terms is a cumbersome task, especially for independent shop owners with limited resources. Thankfully, that can be easily done via online wholesale marketplaces such as Vegshelf which specializes in helping independent food shop and café owners discover and order wholesale vegan products from Europe's most innovative food and beverage brands, at no additional cost for shop owners.
3. Reduce your shop's carbon footprint by expanding your plant-based food offering
Topics such as climate change, and the devastating impact of factory farming are frequently covered in the news and media. And, consumers everywhere are listening and becoming more aware of how their everyday purchases, including groceries, impact the world around them.
Especially aware of plant-based foods being the most promising solution for feeding the world sustainably are Gen Z's and Millenials - customer groups that are well-informed, value-driven and care about the environmental impact of products they buy. Not surprisingly, the younger generations are also the key driving demographic of the vegan food market, and retailers of all sizes are responding. "Our aim is to make plant-based food easily available and affordable for everyone. We are committed to our customers' wishes and thus constantly expanding and optimising our plant-based product range," said ALDI Nord's Business Unit Director Corporate Responsibility and Quality Assurance International, Cristoph Georgius for the recent Smart Protein survey on European consumer attitudes towards plant-based foods (2021).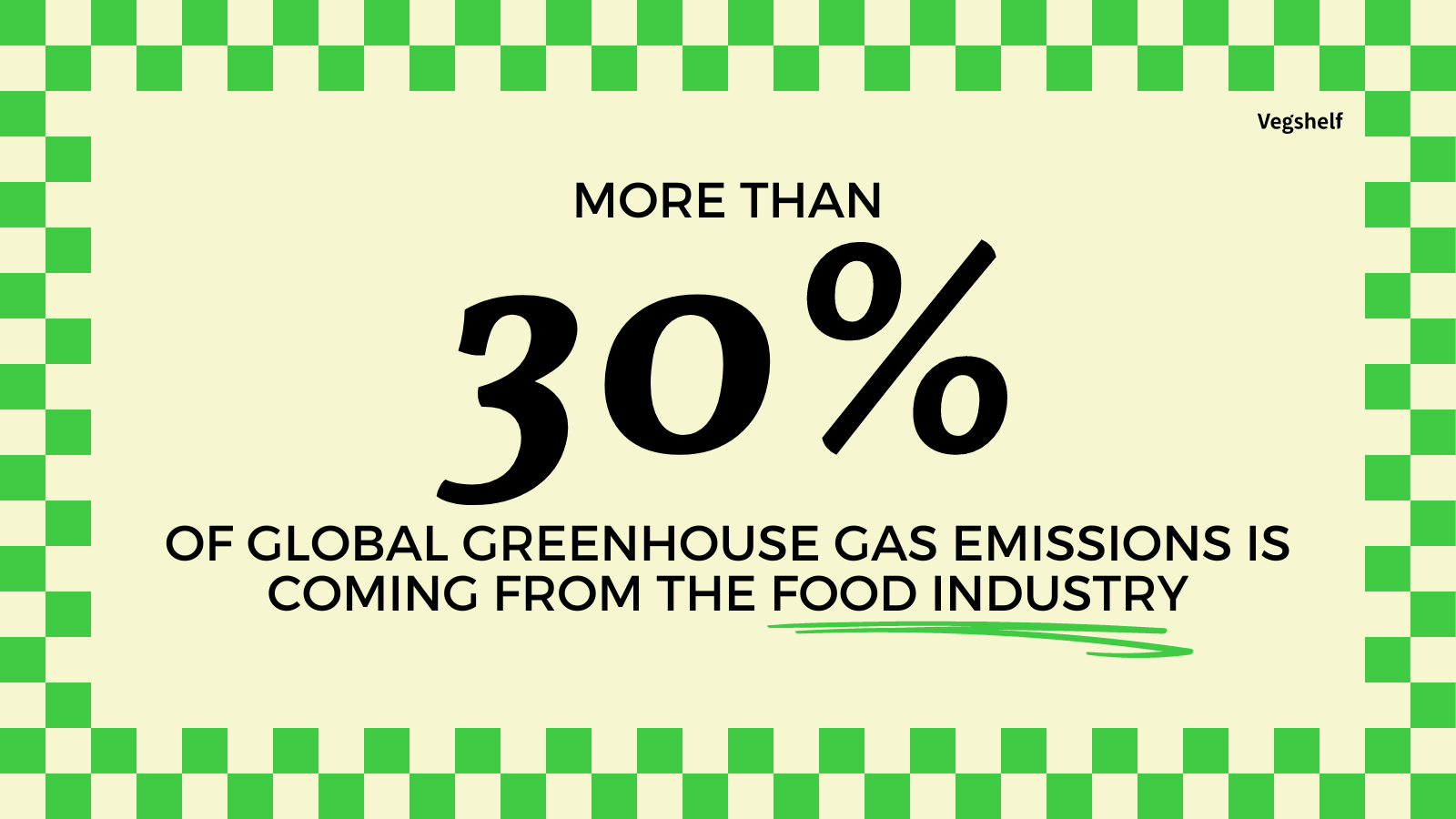 Source: Food and Agriculture Organization of the United Nations (FAO), European Commission's Joint Research Centre (2021)
The growing demand of end-consumers and the skyrocketing number of European vegan food and beverage suppliers presents a perfect chance for you as a retailer to not only grow your sales by offering a unique assortment of vegan products but also to cut your carbon footprint. With more than one-third of global greenhouse gas emissions coming from the food industry, every SKU counts. According to British Retail Consortium Climate Action Road Map, sourcing and offering sustainable, local products is the most important change shop owners can make, allowing to cut 75% of all retailers' emissions.
Vegan food and beverage - a perfect opportunity for store owners
Vegan food industry from specialty items has grown into the mainstream with flexitarian customers driving the demand.
So, what does it mean to you as a shop or cafe owner willing to further grow your company's business? The consumer shift towards vegan or flexitarian diets presents a perfect opportunity for you as a retailer, where expanding your vegan food assortment by allocating more shelf space is essential.
Market data shows that stores that have embraced the change and expanded their vegan food offerings have significantly increased their sales, reduced their carbon footprints, and established themselves as up-to-date and sustainable companies in the eyes of existing and new customers. How will you take advantage of this opportunity? Share your journey with us, and if you need help, we are here - hello@vegshelf.com.
Article photo by Ben Douglas on Unsplash.