As an emerging food or drink CPG (consumer packaged goods) brand, it can be tough to break into the market and get your products in front of consumers. Brands of big food corporations and supermarket private labels dominate the shelf space, making it difficult for new brands to get noticed. Moreover, most emerging food and drink brands will find it very difficult to supply big retailers in the first years of their business, since that means meeting specific requirements for margins, marketing budgets, and volumes set by the supermarket. This is where independent retailers can be a game-changer for your brand.
Independent grocers, also called mom-and-pop shops (or Tante Emma Laden in Germany), are smaller in size, local, often family-owned businesses that usually specialize in particular types of products. From specialty stores, food concept stores, delicatessens, and organic shops, to cheese and wine shops. These retailers offer a unique opportunity for emerging food and beverage CPG brands to get their products in front of a targeted audience and build a loyal customer base. If you're still on the fence about launching your food or drink CPG brand in independent stores, you should, and here's why:
1. Strong relationships with their communities and loyal customer base
Independent retailers often have a loyal customer base to whom they serve as a trusted source of information and recommendations for products, including those from new and emerging food or beverage brands. By partnering with independent retailers, you can tap into their community and loyal customer base leading you to increased sales, and word-of-mouth marketing for your brand.
In addition to that, independent retailers are known for their individual approach and attention to detail, which means they can offer more personalized service to their consumers than larger chains are able to. Independent grocers take the time to get to know their wholesale suppliers and products, as well as customers shopping at their stores and their preferences, making them the perfect partner to introduce your brand to potential customers with the attention your products deserve.
2. On the lookout for new, unique, and local inventory
Independent stores often try to differentiate themselves from larger chain stores and stay fresh in the eyes of their regular customers by offering new, unique and specialty products not commonly found elsewhere. These products also help attract new customers who are looking for something different, artisanal and local.
Retailers who operate independently are more likely to try new products and take a chance on emerging brands, especially if it fits with their store's niche or target market. This is where the interests of emerging food and beverage brands and independent grocers perfectly align, allowing your brand to get in front of consumers and test the market without retailers committing to a large, palette-size order.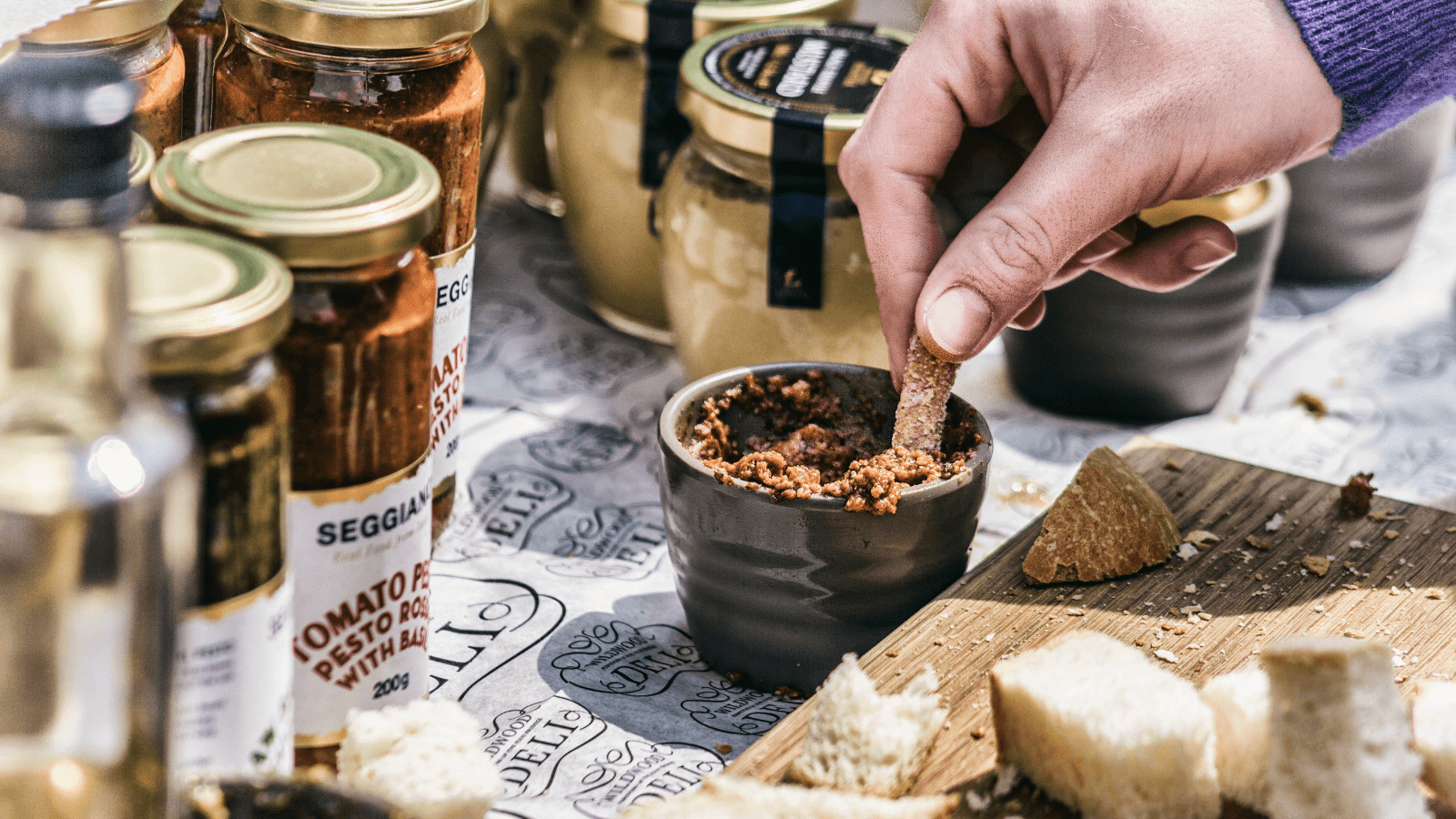 Consumer sampling new, locally-produced condiment. Photo by James Sutton on Unsplash.
3. More flexibility in their sales terms
Independent retailers are more flexible in their terms of sale, such as order volume, product placement or lead times, compared to larger chain stores. This is because independent stores often have more control over their policies and can make decisions on a case-by-case basis, whereas supermarkets have more rigid policies in place due to corporate policies and regulations.
For emerging food or beverage brands, it makes it easier to get started with independent retailers and negotiate the terms that fit and allow both sides to grow organically. Moreover, this can be a great opportunity for new food or drink CPG brands to get creative with product placement and in-store promotions. At Vegshelf we have seen independent grocers being very flexible and open to brands' ideas about their products in-store marketing such as pop-up events, product sampling, merchandising, and launch events.
4. Feedback and valuable insights
Independent retailers have a wealth of knowledge about their customers and the local market. Since independent retailers naturally develop closer relationships with their wholesale suppliers, they tend to provide more detailed and honest feedback about the product's performance in the store.
By partnering with an independent grocer, you can not only gather valuable insights about your target audience but also make informed decisions about your marketing and product development strategies, and ways to improve your product's sales.
5. Niche focus
Independent grocers often specialize in a particular type of product or cuisine, which can be a great fit for a new food or beverage CPG brand that is targeting a specific niche market. For example, if your brand specializes in vegan and plant-based products, you may have a better chance of success at an independent grocer that focuses on natural and organic products.
Traditionally, finding independent stores and maintaining relationships with them has been a challenging task that requires a lot of resources, especially for food or beverage brands just starting out. Thanks to B2B marketplaces like Vegshelf, emerging vegan food and beverage brands can reach independent stores that they otherwise wouldn't find or know of, in a matter of a few clicks.
Independent grocery stores - A perfect channel to kick-start your food or beverage brand's sales
To wrap up, independent retailers offer a unique opportunity for food or beverage CPG brands to get their products in front of a targeted audience and build a loyal customer base. While there are certainly other channels to consider, independent grocers offer a unique set of benefits that can be especially valuable for new brands looking to establish themselves in the market. Their personalized service, community focus, flexibility, and valuable insights make them the perfect channel to kick-start your sales, grow your brand, and establish strong relationships that can be valuable as you expand and potentially reach out to larger retailers in the future.
How will you take advantage of the opportunity that independent retail presents? Share your journey with us, and if you need help, we are here - hello@vegshelf.com.
Article photo by Stella Tzertzeveli, Irina Lo, Lisa Minucci, and Krisztina Papp on Unsplash.