Gone are the days when veganism was just a hot food trend, today it's mainstream, with skyrocketing amounts of people reducing their animal food product intake and embracing plant-based, vegan or flexitarian diets because of health and environment, among other reasons.
It's indeed everybody who's joining the movement, including those who eat meat and used to consume lots of it. It's a Europe-wide shift we are talking about, with 57% of Germans and 55% of Poles seeking out plant-based alternatives, while 45% of French and Italians often employing meatless days, according to Mintel.
As a result, the gastronomy landscape is changing too, with a solid 25% increase of vegan and vegetarian restaurants and coffee shops in Europe since 2019, according to HappyCow.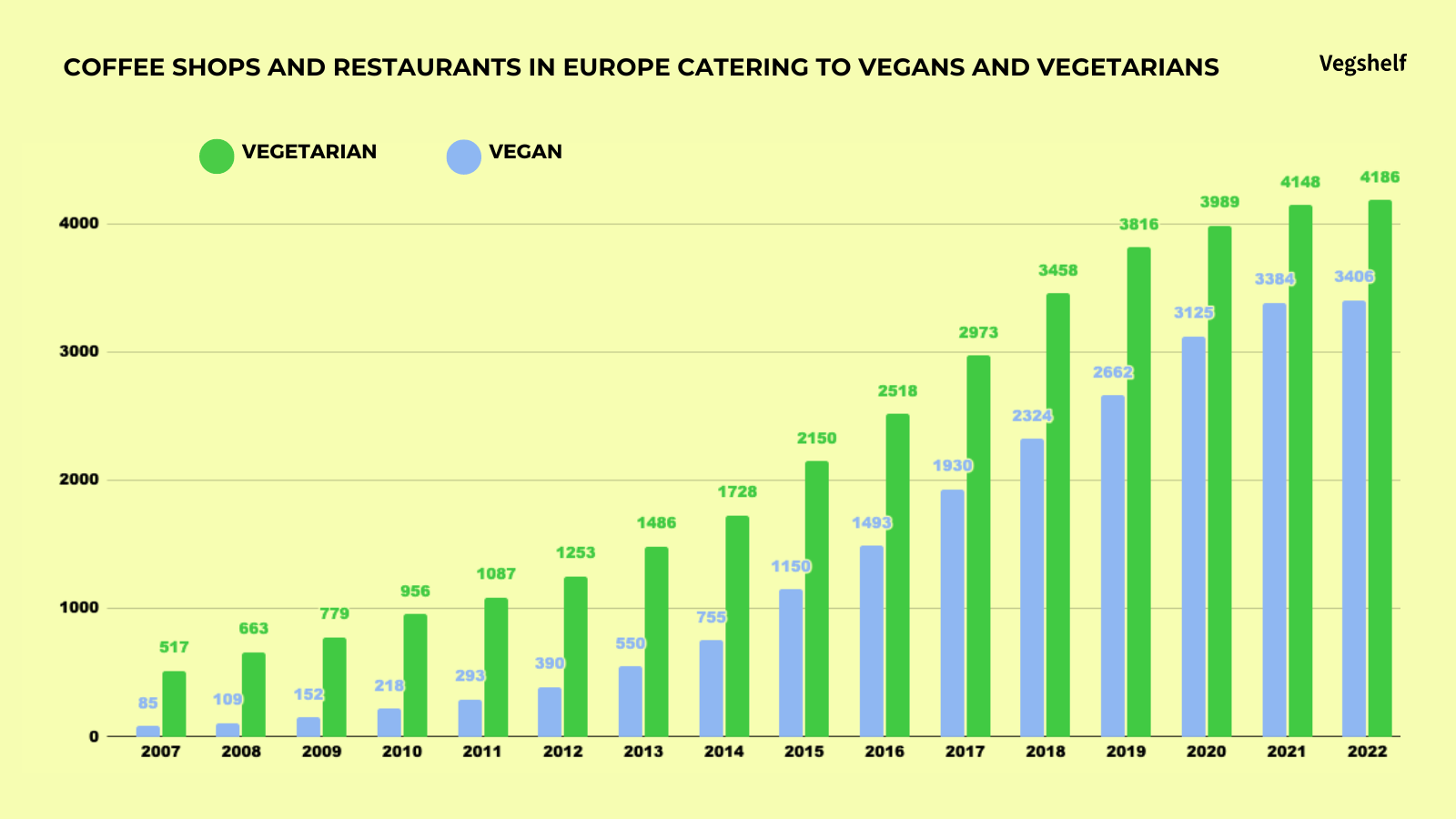 Source: HappyCow (2022)
In addition to vegan venues, traditional coffee shops that serve drinks, quick and convenient food options, and snacks are including more plant-based items on their menus. And, to stay up-to-date and not to miss out on the perfect business opportunity, you should be too - here's why:
1. Maintain your clientele by responding to changing consumer preferences
Global growth in the vegan food sector has been driven by the mainstream emergence of flexitarian consumer - people who deliberately reduce their animal food product consumption but still eat meat occasionally. It's the exact same group of customers that make up the majority of the guests visiting your coffee shop, unless you're a vegan-focused establishment.
To address the overwhelming number of customers looking for plant-based food and beverages, you need to stay relevant with your offering by adding a variety of delicious plant-based alternatives to your menu. Oat or almond milk as an alternative to cow's milk, plant-based chicken wraps, vegan energy bars and chocolate are just some of the options to start with.
Despite being hard to find, today there is a growing number of innovative European wholesale suppliers offering high-quality products made specifically for coffee shops and their audiences. We may be a little biased here 😊, but discovering and ordering in bulk from such wholesale suppliers has never been easier thanks to technology and online B2B marketplaces. For example, Vegshelf, which specializes in helping coffee shop and specialty store owners to discover and order wholesale vegan products from Europe's most innovative food and beverage brands. Everything from discovering new products and brands, to bulk orders, payments, and invoicing can be done in few clicks, in one place, and at no additional cost for professional buyers using Vegshelf.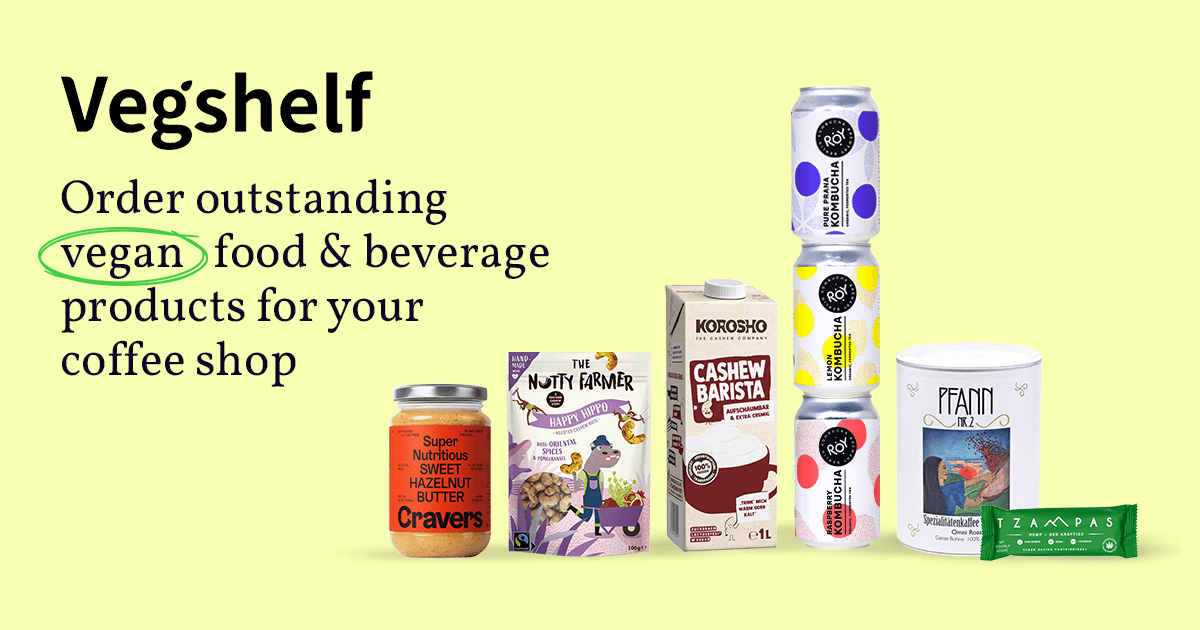 Order outstanding wholesale vegan food and beverage products for your coffee shop on Vegshelf
2. Expand your customer base by including vegan items on the menu
Having indulging plant-based options on the menu means having your coffee shop, lunch restaurant, or other foodservice business ready to serve any customer that comes through the door because vegan food and drinks are also equally suitable for people with lactose intolerance, specific allergies, athletes, and people with religion-related dietary restrictions such as kosher and halal. And, that's not to mention the true foodies - those always looking for different, more unique dining experiences.
Additionally, vegans will make your coffee shop shine in their networks due to being a close-knit and loyal community where reviews and recommendations are usually shared among each other, online and offline. That means powerful and free word-of-mouth marketing driving new customers to your business.
3. Grow your coffee shop's revenue by being fit to serve large groups
Large groups are won by coffee shop or other food service places that are inclusive and cater to everyone. Why? Because when going out to eat or grab a coffee in a group, people make sure that at the particular place there is something to eat or drink for everybody.
Today in Germany, France and Netherlands alone on average 43% of people are actively reducing animal-based food consumption by following vegan, vegetarian, flexitarian or pescatarian diets, according to Proveg International survey, conducted in 2021. This means that chances are very high that within a friend's group that came to your coffee shop there will be several people having specific dietary preferences. Having a variety of plant-based options will help you get more of those large groups and ultimately boost your revenue.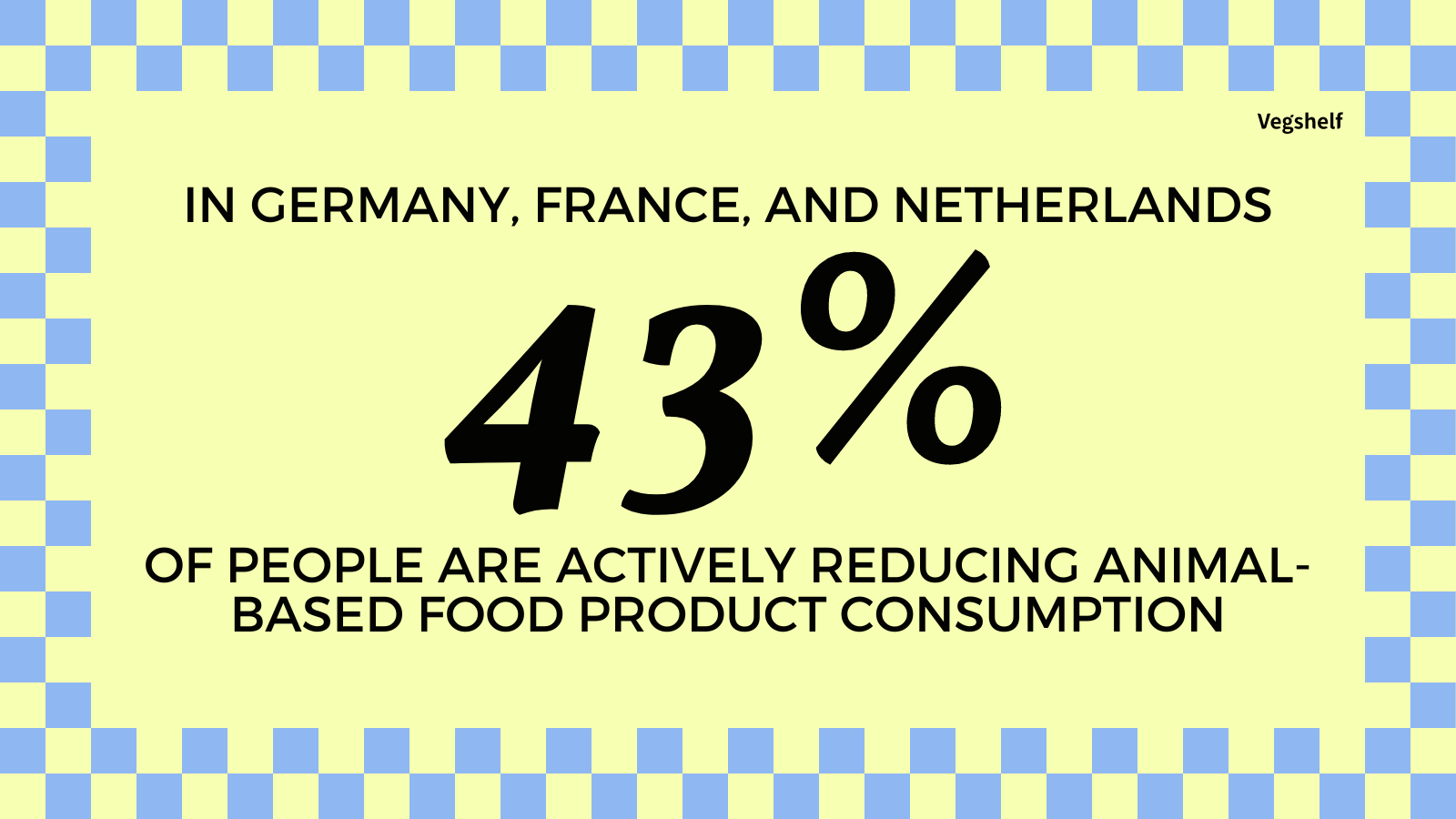 Source: Proveg International (2021)
Vegan beverages and snacks - a winning formula for coffee shops
The vegan food industry from being a relatively niche has gone fully mainstream and is on a continuous rise fueled by growing consumer expectations.
So, what does it mean to you as a coffee shop owner? More consumers shifting towards plant-based diets presents a great opportunity for you as a coffee shop, where adding vegan options to your offering is fundamental. The market shows, that coffee shops that have adjusted their menus to current times have won more business and become a reliable go-to place for people of all dietary preferences.
That way you will not only establish yourself as an up-to-date, sustainable and inclusive food service operator but also will retain your existing customers, be more appealing to completely new visitors and win over large groups. All that to ultimately boost your sales and stand out among your competitors. How will you take advantage of this opportunity? Share your journey with us, and if you need help, we are here - hello@vegshelf.com.
Article photo by Steffan Mitchell on Unsplash.