Our favourites
in Snacks & Sweets
Snacks & Sweets
Shop a wide selection of unique products in our sweets and snacks category, at low wholesale prices and minimum order volumes. Browse the curated assortment of bean-to-bar and specialty chocolate, energy bars, better-for-you candies, gluten-free cookies, crackers, chips, fairly sourced nuts, and popcorn. Join our retailer family and get free shipping from 250€ per brand.
See all products
To get access to all products and wholesale prices, you have to register as a buyer. It's free and takes less than 2 minutes.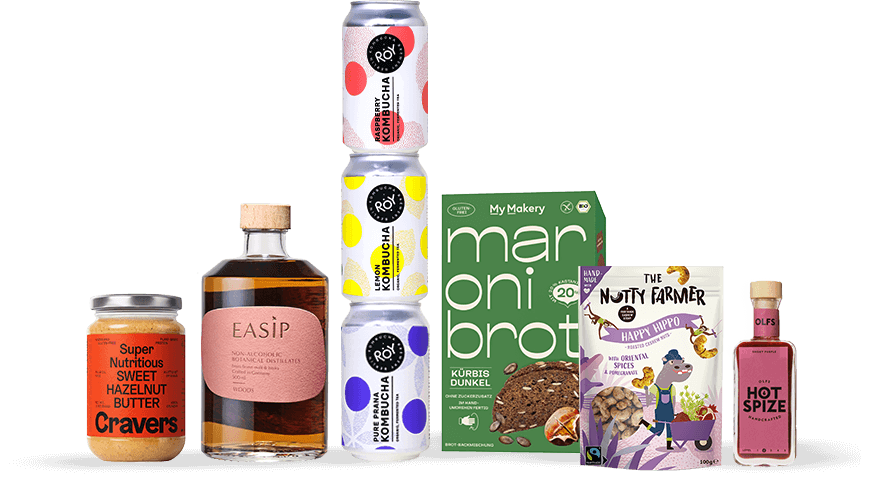 Shop unique sweets & snacks for your store, at low wholesale prices and minimum order volumes
The online wholesale marketplace of Vegshelf offers store and cafe owners a selection of carefully selected vegan food and beverage products.
Our sweets and snacks assortment is carefully curated for concept stores, online shops, subscription boxes, delicatessens, pop-ups, grocery stores, organic shops, yoga and wellness studios, hotels, coffee shops, and other businesses, catering to modern and conscious customers who value high quality and care about sustainability and the impact of their purchases.
Vegshelf online B2B marketplace offers wholesale sweet and savoury treats that are incredibly indulgent, healthy, and made from the best natural, plant-based ingredients. Gluten-free, award-winning, organic, and sustainably packaged sweets and snacks make up much of our assortment.
Find a curated range of new sweets and snacks from Europe's most innovative brands
Bars and bites: Discover a broad range of vegan snack bars, energy bars, and bites made with natural ingredients such as nuts, seeds, and dried fruit. The perfect snacks for on-the-go snacking or to boost energy quickly.
Chocolate, candies, and gummies: We offer a selection of high-quality vegan chocolate, single-origin chocolate, sugar-free candies, and gelatine-free gummies. All products are incredibly indulgent, made with plant-based ingredients, and do not contain any animal products or by-products.
Chips, crackers, and popcorn: Choose from a variety of traditional chips made from corn, potato, or beans, as well as more unique flavors like kale or beetroot chips, wheat or multigrain crackers, popped lotus seeds, and popcorn in various flavours. All of these snack products are perfect for those retailers and coffee shops looking for healthier, better-for-you snacking options.
Cookies and cakes: Discover a variety of vegan versions of traditional cookies and cakes that are made with plant-based ingredients and are free of any animal products. These are delicious, nutritious, and indulgent treats that can be enjoyed by vegans and non-vegans alike.
Nuts and dried fruits: We offer premium quality nuts, seeds and dried fruits that are fairly sourced and sustainably packaged in variety of sizes. It is a convenient and healthy snack option that is packed with nutrients.