Our favourites
in Pantry & Condiments
Pantry & Condiments
Diversify the assortment of your specialty retail store or online shop with organic fermented vegetables, limited batch hot sauces, oils, vinegars, nut butters, local jams, plant-based ready meals, and vegan baking mixes made by outstanding European brands. Enjoy free shipping from 250€ per brand.
See all products
To get access to all products and wholesale prices, you have to register as a buyer. It's free and takes less than 2 minutes.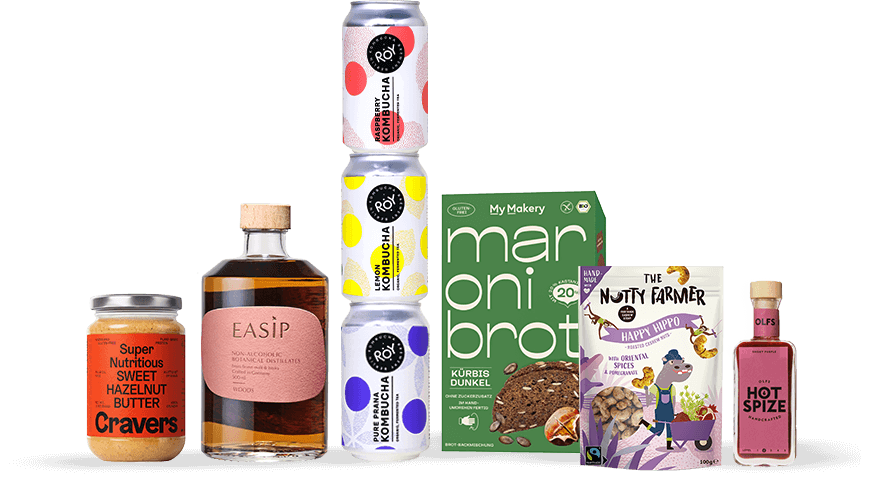 Find a variety of European specialty foods in our pantry & condiments range for your retail store
Store owners can discover a wide variety of carefully selected vegan food and beverage products from the most innovative European food brands on Vegshelf online wholesale marketplace.
For independent retail stores, concept stores, markets, delicatessens, pop-ups, grocery stores, organic stores, specialty food stores, wine stores, yoga studios, hotels, cafes, and other businesses, our vegan fine food selection is curated to cater to modern consumers and to offer high-quality, sustainable products.
Vegshelf B2B online platform offers pantry items and fine foods that are delicious, healthy, free from artificial additives, and made in Europe using the finest natural, plant-based ingredients. Many brands selling their products on Vegshelf source their ingredients from local farmers and support sustainable, regenerative agriculture practices, upcycling and reduction of food waste.
Discover and shop unique condiments & pantry items at low wholesale prices on Vegshelf
Vegan baking mixes & supplies: We offer wholesale food products such as baking mixes for cakes, bread, cookies, and other baked goods that are made without animal products such as dairy or eggs. The range includes also a variety of plant-based flours such as almond, coconut, and oat flour, grains like quinoa, rice, and oats, as well as natural sweeteners like maple syrup, honey, and agave, as well as vegan alternatives like brown rice syrup and coconut sugar.
Fermented vegetables and pickles: Discover sauerkraut, vegan kimchi, various chutneys and pickled vegetables, made from organic vegetables in a traditional way and with a modern twist. All beautifully and sustainably packaged, making a great addition to the gift basket.
Sauces, oils, and vinegar: We offer a range of unique condiments like small-batch hot sauces, chilli syrups, vegan mayonnaise, sauces with gin, ketchup, high-quality olive oil, Chinese crispy chilli oil, raspberry vinegar, yuzu vinegar and much more. Of course, all vegan, and made of high-quality ingredients by amazing European brands.
Sweet spread, nut butter, and jam: Discover a variety of the highest quality peanut butter, raspberry cashew butter, sea salt almond butter, crispy hazelnut butter, chocolate spreads made of dates, cinnamon-apple spreads, and traditional jams but with high fruit content.
Specialty coffee and premium-quality tea: We offer a wide selection of high-quality specialty coffee, single origin beans, coffee from small, independent roasteries, matcha, and rare teas, known for unique flavours and their focus on sustainability, craft and only the best natural ingredients.