Our favourites
in Beverages
Beverages
Discover and shop our hand-picked assortment of unique drinks and craft beverages at low wholesale prices. Attract modern consumers by offering alcohol-free drinks, kombucha, chai, ice tea, vegan protein drinks, and award-winning soft drinks made in Europe. Enjoy low order minimums and free shipping from 250€ per brand.
See all products
To get access to all products and wholesale prices, you have to register as a buyer. It's free and takes less than 2 minutes.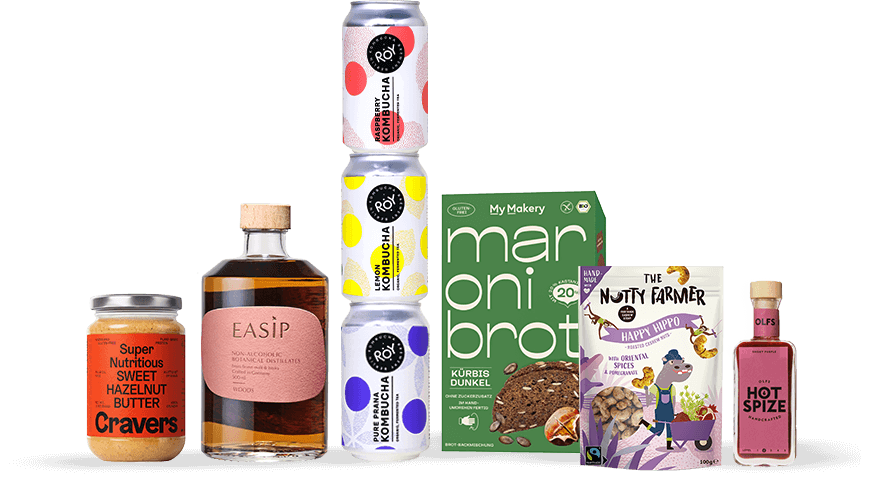 Discover a curated assortment of unique beverages for your retail store, online shop or coffee shop
On Vegshelf online wholesale marketplace, shop, cafe, and coffee shop owners can browse and shop wholesale a hand-picked range of unique drinks from today's most exciting European beverage brands.
Our assortment of beverages is perfectly curated for beverage shops, wine stores, concept stores, coffee shops, online stores, delicatessens, pop-ups, grocers, organic shops, yoga and wellness studios, hotels, and other businesses catering to modern and conscious customers who are looking for high quality, distinctive, and sustainable beverages.
Vegshelf B2B platform offers wholesale beverages that are full of flavour, natural, vegan and made from a variety of local or fairly-sourced exotic herbs, spices and other ingredients.
Shop wholesale a unique range of craft beverages on Vegshelf
Alcohol-free spirits & drinks: We offer a selection of award-winning non-alcoholic beers, distillates, alcohol-free gins, mocktails, alcohol-free champagnes, and alcohol-free wines. Made of selected herbs, botanicals, and using sophisticated techniques, ​​these drinks are in no way inferior in taste and performance to conventional alcoholic versions.
Kombucha, chai, and ice tea: Choose from a wide variety of kombucha, chai, and ice tea brewed using the finest natural ingredients and according to ancient recipes. Known for their health benefits and indulging flavors, these drinks are perfect for coffee shops and concept stores.
Protein drinks: Find a curated range of high-quality protein drinks made of plant-based ingredients, such as oat milk, soy milk, coconut milk or almond milk. Protein drinks are a convenient way to get a quick protein boost, particularly for those who are physically active.
Wellness drinks & Soft drinks: Discover and shop wholesale a variety of unique wellness drinks, as well as sodas and soft drinks in traditional and exotic flavors. Refreshing and hydrating, these drinks are perfect for offices, coffee shops, cafes, and grocery shops.